Thorpe Hall School's Meghan Samuels is National Cross Country Champion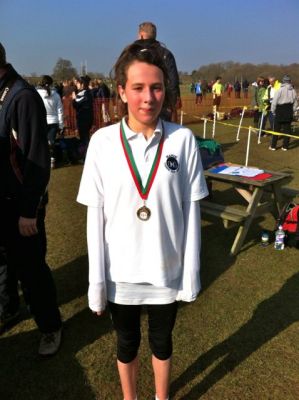 Thorpe Hall School's runners put in a winning performance at the Independent Schools Association National Cross Country Championships with Meghan Samuels (Yr 7) crowned Girls Champion.
The Independent Schools Association (ISA) National Cross Country Championships took place on 2nd March at Princethorpe School near Rugby, Warwickshire. To get there, teams from over 24 schools competed in regional heats with the top 3 finishers in each category qualifying. Six pupils from Thorpe Hall travelled to Rugby to represent East Anglia with Year 11 pupil Monte Hodges entering as senior Regional Champion having won his qualifying event. Although the conditions on the day were perfect with little wind and warm sunshine, the course itself was particularly tough and there were many narrow tracks and some very steep terrain towards the end for runners to contend with. Thorpe Hall boys William Shepherd, Monte Hodges and Brandon Fry all showed great determination in their respective races moving up the places in the closing stages. In the U16 (Year 9 & 10) Girls Final Lucy Kidwell, still recovering from illness, put in a fantastic run to finish 7th overall. It was Meghan Samuels in Year 7 that really shone on the day though, running a tactically superb race with a convincing lead against strong opposition from some the best young runners in the country. She romped to victory over 2500m to claim the title of U14 Girls ISA National Cross Country Champion and marking a fantastic end to Thorpe Hall School's successful Cross Country season.