Seniors Tell a Curiouser and Curiouser Tale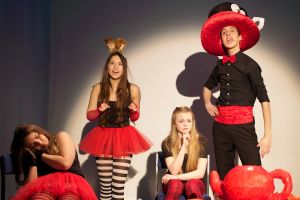 Thorpe Hall's annual senior theatrical production delved much deeper into the curiouser and curiouser world of 'Alice in Wonderland' last week.
Over three nights, the cast and crew presented a darker, more contemporary version of the Lewis Carroll classic, adapted by playwright Laura Wade. The tale began with a funeral reception for Alice's older brother who had been killed in a drink-driving accident. From there, it followed Alice (played by Lucy Brown) as she puzzled her way through a topsy-turvy world. Wonderland was cleverly presented as a state of mind, governed by an irrational queen with a penchant for croquet and decapitation, and administered by a border-control caterpillar (Katie Batch) demanding to know if visitors carried any emotional baggage. There were some quite exceptional performances from all the usual suspects: the White Rabbit (Dora Hodges), the Cheshire Cat (Finley Hopson), the Queen of Hearts (Beau Dibbs), the Knave of Hearts (Cameron Montrose) the Dormouse (Lucy O'Brien), Duchess (Hollie Vidler), the Mad Hatter (Harvey Hoile) Humpty Dumpty (Scott Lewington) Tweedledee (Oscar Parry) and Tweedledum (Amy Dixon). Along with a wonderful supporting cast, all added moments of brilliance and humour to the surreal nonsense, which held audiences of all ages enthralled and fascinated. Special mention too must go to the highly professional lighting, sound and wardrobe crew who worked so hard behind the scenes.