Great Booster Cushion for Lower School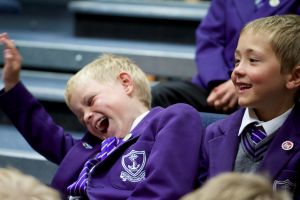 When the Booster Cushion Theatre visited Thorpe Hall's Lower School last week there were happy faces and shrieks of laughter all around.
Since it was formed in 1989, The Booster Cushion Theatre has been encouraging children to take a greater interest in books and has performed to over 400,000 people across the country. Pupils in the Lower School at Thorpe Hall were treated to an entertaining and comical show in which the song 'Old McDonald' was cleverly weaved with the story of the Three Pigs. The children loved joining in with the show and all the surprises along the way.