Top Independent at SSSP Tag Rugby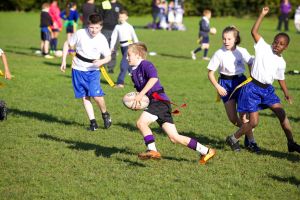 Thorpe Hall School pupils from Years 5 and 6 put in some excellent individual and team performances at the Southend School Sports Partnership (SSSP) Tag Rugby tournament.
Held in glorious sunshine at Southend's Rugby Club October, 16 different schools from across the borough competed in the event. Thorpe Hall was the highest finishing independent school in the competition and ended the day top of Group 2 and in 9th place overall. Man of the Match awards went to Grace Gosling and Nathan Sands for their respective performances.